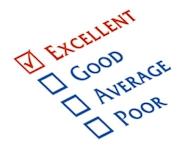 These testimonials were copied directly from emails sent to us by our customers:
Sirs: i am 50 years old. I purchase many items via the internet. I have come to expect adequate service, truth in advertising, and satisfactory performance from the things i purchase. I have become jaded, and am rarely "wowed" by items i receive. Congratulations! Your company deserves a "wow!" your price was very good. I was adequately impressed by your "no questions asked" guarantee. The products i ordered arrived when you said they would arrive. So far, business as usual. But, then i read the extremely simple instructions, and followed them. In spite of your warnings of small amounts of ink spillage and your estimation of first time refilling, i was amazed. For my canon s750, i reloaded all four ink cartridges in less than 15 minutes. I ended up with two tiny smudges on my fingers, and no ink anywhere except for the drips from the head as you warned of. Good service? No! Great service!! Why didn't i do this years (and hundreds of dollars) ago?
Again, good product, good instructions, good attitude. Thank you! George
---
Received my ink order, very prompt service.
Thank you, sherry
---
I received my ink refill kit today!! Wow - was that fast. I appreciate your fast service - i plan on using you again.
Mark
---
Dear sir/ms.
I wish to thank you for your prompt service. I ordered ink from you on April 1, and it was delivered this morning. I never expected it that fast. I have already recommended you to some of my friends.
Yours truly,
Barry
---
Joe,
these new needles seem to fit. Thanks for your fast and effective response.
Don
---
great, thanks for making products like the chip resetter that save people money.
---
Hi Joe; just want to thank you. I receive the chip resetter today and it did what it was supposed to. Your prompt service and a product is appreciated, one satisfied customer.
Thank you so much. I have gotten this ink in great condition and within a very short time. I am pleases with my first order. Sincerely
---
Joe, i wanted to thank you for reshipping my order. I received it today.
Monica
---
Joe:
just want to let you know that the order you shipped (the second one) was received today in good condition and complete. Thanks so very much for your excellent customer service. I appreciate it more than i can say.
My best regards,
Kathleen
---
Joe -
thank you for your prompt reply. I tried printing in color after receiving your message. And it worked!! Will be in touch next time i need refill materials.
Nick
---
Just to let you know that the order arrived sooner than i expected, and have used it for the first time, and i am well satisfied. The instructions are very good, i had no trouble using the kit, and will be ordering more at a later date. I would highly recommend your company for this product.
Best regards,
Richard
---
Good morning,
you folks have a very fast delivery system. My order was placed last Saturday, and i received it on Wednesday of this week. Calculating the amount i will save verses buying a new cartridge every time it comes out to roughly a $600 savings. When the time comes to order a color refill kit, i will be ordering it from you.
Thanks again, and have a very nice day, Roger
---
I received the order in good condition on 2/24/03. Great service! I will order from you again!
---
Thanks for your service, i receive my inks today in the morning, so i full mi cartridge, and its working, very good, i really appreciate your service,, it was so fast, and i going to recommend to my friends, god bless you costumer support team...have a nice day....
from. Puerto Rico - Dinelia
---
Great service and product ,thanks again!! Gail
---
Thank you so much for all your time and help with my problem. And your prompt replies. thanks again.
---
Received my order. I would like to let you know how pleased i am with your products. The directions were very easy to follow and the print quality for the black and color is very good. I have passed your name to several friends and family and they will be ordering from you and i will continue to order. Just wanted to let you know.
Thanks, a happy customer Shelby
---
well you were right--it works!!I filled the Lexmark x83 and other than not putting in enough ink the first time it was clean and easy to do. Think I'll take the wife out to dinner tonight on the ink money we saved, also told my friend about you he has same printer thanks Andy
---
I would just like to tell you thanks for sending my order quickly. Your products are great and easy to use. I am sure glad that i found your website. Thanks again i will recommend you to all my friends.
Thanks for your business, and please let your friends know about our site.
www. printertonerwarehouse.com